Website


The Silver Line Helpline
Clavis & Claustra are an innovative, creative and, quite frankly, incredibly bad-ass independent stationery and gifts company based in Yorkshire.
As a purveyor of all things ardently feminist (of the intersectional variety), it's no surprise to learn that the genius behind C&C is a queer woman with a love of history, sustainability, and defying condescending arseholes in elevators.
Daily social media content
When Cat Crossley (She/Her) approached me to looking for support her with creating daily content for C&C's social media (SM) channels, I nearly bit her virtual arm off.
Cat was looking for social media content that was fun, informative, and didn't take itself too seriously.
She was looking for a mixture of historical "fun fact" features, product promotion, personal snapshots, and seasonal/"on this day" style content.
Freeing up my client's precious time
As an incredibly busy one-woman-band, Cat was looking forward to freeing up some headspace so she could work on new product lines and growing her business.
While Cat was staying involved in the content planning process, it'd be my responsibility to research, write, and source imagery for SM content being shared on C&C's Twitter, Instagram and Facebook.
Cat and I began by putting our heads together and figuring out the best way to plan and organise Clavis & Claustra's SM content.
A rolling two-week social media content strategy
Working around Cat's existing priorities, we arranged to have a fortnightly virtual or telephone call in which we'd brainstorm content ideas for the next two weeks.
To effectively plan C&C's SM content strategy, we'd collate relevant data like:
Launch dates for new products we could promote
Birthdays of famous feminist icons
Historical "on this day" anniversaries
Relevant trending stories in the current zeitgeist
Performance data for past posts
Insight into Cat's personal/professional life that might resonate with followers.
Using this data, Cat and I would create the SM content strategy for an upcoming two-week period.
Writing social media content for Clavis & Claustra
Once I had the plan in place in our trusty shared Google Sheet, I would begin writing content for 14+ days of SM activity.
Some posts required more research than others. All I needed for plugging a C&C witch inspired greeting card, for example, was a link to the item in the online store and a sassy caption.
However, some posts, like the historically inclined Herstorian series, needed a little more research.
Many an hour was lost to a Wikipedia hole, as you can imagine…

Writing for the client's audience and Social media platforms
Alongside the research, I also wrote with C&C's audience in mind. I encouraged engagement with questions and touched on topics that resonated with Cat's followers, like feminist history, LGBTQ+ history, and everyday moments.
I was also adapting content for each SM platform, considering:
character count limitations for Twitter and caption cut-off limits for FB and IG
tactical hash-tagging, especially on Twitter where we had limited real estate
linking to relevant URLs and shortening URLs where possible.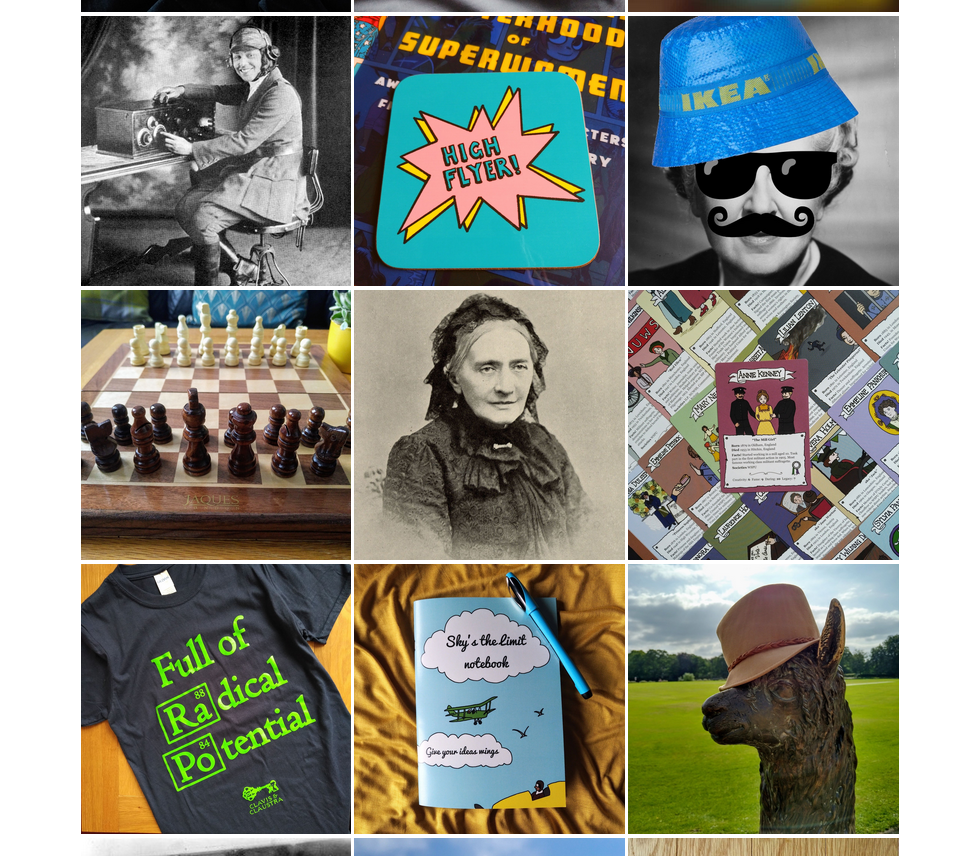 Sourcing imagery and improving accessibility with captions
As part of my services, I sourced imagery for each post. This involved scouring the web for relevant photos of historical feminist heroines or grabbing product photography from the C&C website.
I also proposed that we include image alt text or in-post image descriptions. These descriptions allow people who use screens reader to understand and engage with the post's image.
Unsurprisingly, Cat was all for improving her brand's accessibility and providing a fairer browsing experience for all her customers.
I researched how to effectively write image descriptions and began including them in-text on FB and IG, and as alt-image text on Twitter.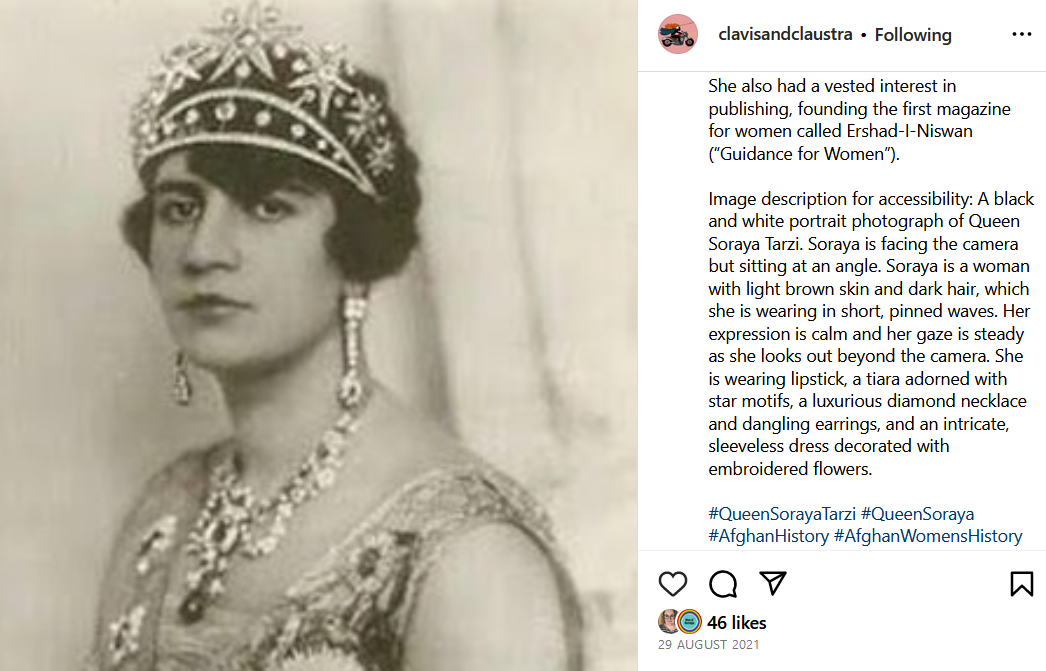 Uploading social media content to Buffer
After working together for a short time, it became clear that uploading the signed-off content to Cat's SM software manager of choice was taking up a lot of her time.
I proposed to take that particular task off her hands and began uploading signed-off content to the C&C Buffer account. I used this software to queue up images and written content, ready to be shared on Twitter, Facebook and Instagram.
A partnership powered by inspiration
I had the privilege of supporting Clavis & Claustra with daily social media content for just over 12 months.
Cat was incredibly pleased at the results of my support, especially considering it took place over 2021 and 2022, when many businesses were struggling to adapt to a post-lockdown market.
I was really pleased to receive some lovely feedback from Cat (scroll to check that out) and she even picked out one of her favourite posts I wrote, which you can see below.
I am so proud to have been a part of the C&C team and to have worked with Cat Crossley. The world is lucky to have her and all she creates; and I'm very lucky to call this effervescent entrepreneur a friend.
To check out my work on Clavis & Claustra's social media channels, visit their Facebook, Instagram or Twitter page and browse posts from Feb to Nov 2021.

"Gen was instrumental in evolving my brand through the outstanding work they did on my social media.

Their lively and engaging content exceeded my expectations and they were both reliable and flexible to work with. I had only extremely positive feedback on their work from my customers, whose brand engagement rose measurably as a result, along with sales.

But more than this, Gen was simply a joy to work with. I would recommend them (and have done) to anyone."